Send a direct email invite to an Advertiser to join Spotify Ad Analytics.
Applies to: Publishers and Agencies
To invite a new Brand to Spotify Ad Analytics, follow these simple steps:
Navigate to the Manage tab on the left rail and click on the 'Invite Brand' tab.
Search the name of the brand and click the name in the drop down.
If the Brand is not yet registered for Spotify Ad Analytics, you'll be prompted to enter details for the Brand contact(s) and click 'Send Invite.'


When you invite a brand to the dashboard, you submit their brand claim on their behalf. This means the brand member will not need to complete this step upon signing in.
After the invite is sent, you'll have the option to add in the brand's Pixel Domain (website domain). Please note: Adding in the Pixel Domain is optional and can be edited by the Brand upon logging in.
Once completed, the Brand will receive the following confirmation email: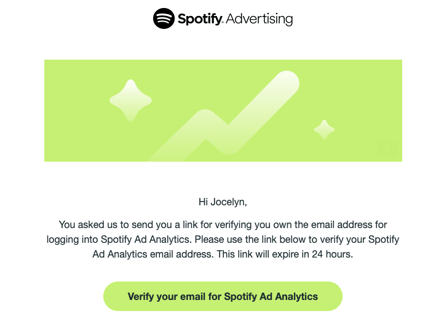 Please note, when a brand is invited to the platform, in order to log in they will need to click "Continue" under "I have a Podsights account" and follow the steps outlined in this help center article.