Set your campaigns up for success by selecting the default ad insertion providers that will inform your Tracking URLs.
Before you begin
Ads measured by Spotify Ad Analytics require tags called Tracking URLs to be implemented in a Publisher's ad server. You can learn about Tracking URLs here.
Tracking URLs are generated based on the ad type that's being measured – which your ad operations team will identify while building a campaign. It's helpful to select your network's default ad insertion providers prior to campaign build to only surface providers who are relevant to your business, helping you and your ad operations team minimize implementation errors.
Instructions
Navigate to Manage > Ad Insertion Providers. You will see a static list of all ad insertion providers available to Spotify Ad Analytics; you should only select the ad insertion providers relevant to your business.

If multiple providers are selected, users will only be able to choose from the selected providers.
If a single provider is set, that will be the only option shown to the publisher.
If no providers are set, all options will be shown when building the campaign.

Click Set Ad Insertion Providers to save your updated settings.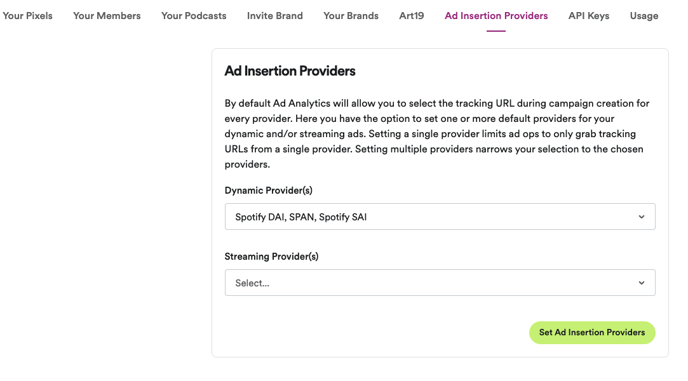 After the Ad Insertion Provider(s) is set, you will see the selected provider(s) as the default option when pulling your tracking URLs.