Below are instructions on how to get your Singular Reporting Data Connector. This is an automated solution for pulling your Ad Analytics data to review, into your Singular platform.
Applies to: Brands and Agencies
Kochava is a third-party partner. Spotify Ad Analytics cannot provide technical support or troubleshooting for third-party services.
In your Ad Analytics dashboard (https://adanalytics.spotify.com/signin), go to Manage > API Key, and click Generate API Key. Take note of the Key and Secret Key. NOTE: The Secret Key will not be retrievable once this screen is closed.
In the Singular web app, go to Settings > Data Connectors.
Click New Data Connector and in the search box that appears search for Podsights (this has not been updated to Spotify Ad Analytics on the Singular side).
In the configuration panel that pops up, provide the following information:

Username: the email address associated with your Ad Analytics account
Password: Organization ID (request this from Spotify Ad Analytics)
API Key: API Key generated from the dash
API Key Secret: API Key Secret generated from the dash

Click Submit to complete the setup.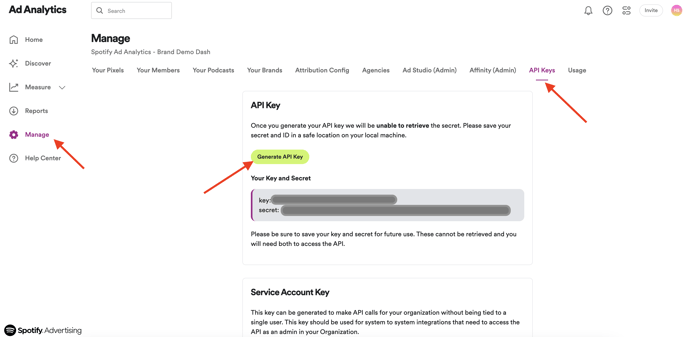 Note: the Singular platform is pulling your Ad Analytics data from our Daily Overview reports.