Before campaign launch, Publishers are required to confirm that tracking URLs have been implemented in the ad server.
Ads measured by Spotify Ad Analytics require tags called Tracking URLs to be implemented in a Publisher's ad server. Learn more about Tracking URLs here.
Instructions
To confirm with the Advertiser/Agency that the tracking URLs are installed are on your ad server:
Navigate to your campaign in the Spotify Ad Analytics dashboard.
On the right-hand side, navigate to the Confirmed Tracking URLs section and click the button named Tracking URLs
Check off the boxes next to each line item and click Confirm Selected
Confirmed Tracking URLs will show a green check mark to the right, while unconfirmed tracking URLs will show a red exclamation mark to the right.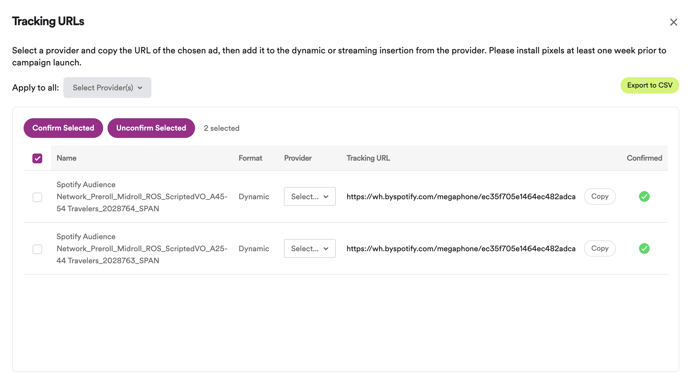 Notifications
Spotify Ad Analytics will notify Publishers in their dashboard if we detect any unconfirmed Tracking URLS:
Click the bell icon on the top right.

If there is a notification that reads, "You have X campaigns with unconfirmed tracking URLs to review," then there are campaigns in your dashboard that require attention. Click the notification to view these.

From the notifications page, click the button named Tracking URLs.
If you have already implemented those Tracking URLs across your campaign, check the boxes next to each line item and click Confirm Selected.

For Live Campaigns
To grab tracking URLs for campaigns that are already Live:
Navigate to the campaign, click the More... tab, then Edit Ads.

From there, click Tracking URLs in the right-hand corner to grab the new tracking URLs to be installed.