This article will walk you through how to learn more about your audience on Spotify with demographic, interest, and behavior-based insights.
Applies to: Brands andAgencies
How it works
Audience Insights is a feature of Campaign Reporting that utilizes Spotify's first-party data to learn more about the listeners who streamed your ads on Spotify. Audience Insights is only available to Spotify Advertising campaigns, across all streaming ad formats in music and podcasts. Reporting is based on delivered impressions.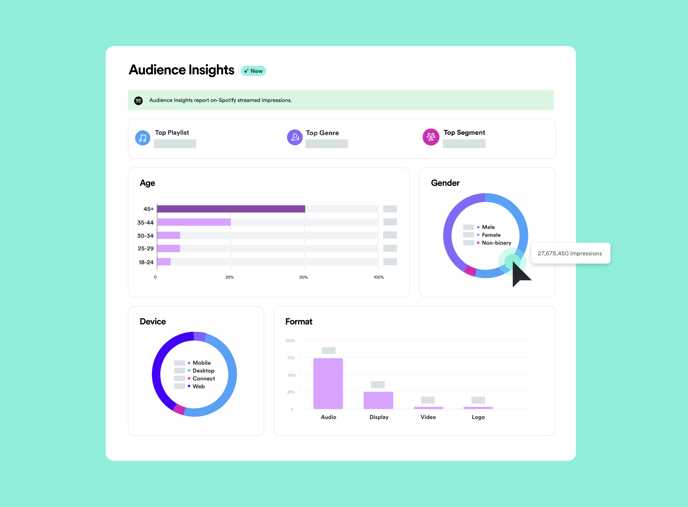 Instructions
Sign into your Spotify Ad Analytics account
Navigate to your Spotify campaign and click on the Audience Insights page.
The Overview tab shows a snapshot of the listeners who have streamed your ad on Spotify – including demographics (age, gender) and listening behavior/interests (top music genre on Spotify, etc.). You'll also find a breakdown of the impressions streamed by device type and ad format.
The Audience tab shows a more detailed delivery breakdown based on On-Spotify listening behavior and interests.
The Line Items tab shows a delivery breakdown per streaming tactic in your campaign.
Frequently Asked Questions
How often is the Audience Insights data refreshed?
The Audience Insights data is refreshed on a daily basis.

Am I able to see insights based on conversions, rather than impressions?
At this time, you are only able to view these insights based on aggregated impressions across streaming media on Spotify.

What are these Audience Insights based on?
We are able to provide demographic, interest, and behavior-based insights based on Spotify's first-party data.