Measure the effectiveness of your ads, on and off Spotify.
What is Spotify Ad Analytics?
Spotify Ad Analytics is a global measurement service that gives advertisers unified access to Spotify measurement services and analytics.
Measure all of your ads on Spotify. See delivery and measure results across Spotify's audio, video, and display formats across music and podcasts.
Measure audio ads off Spotify, too. Track conversions from your audio campaigns wherever you're buying, on and off Spotify.
Leverage first-party insights. Supercharge your marketing decisions with increased precision and insights when you advertise on Spotify.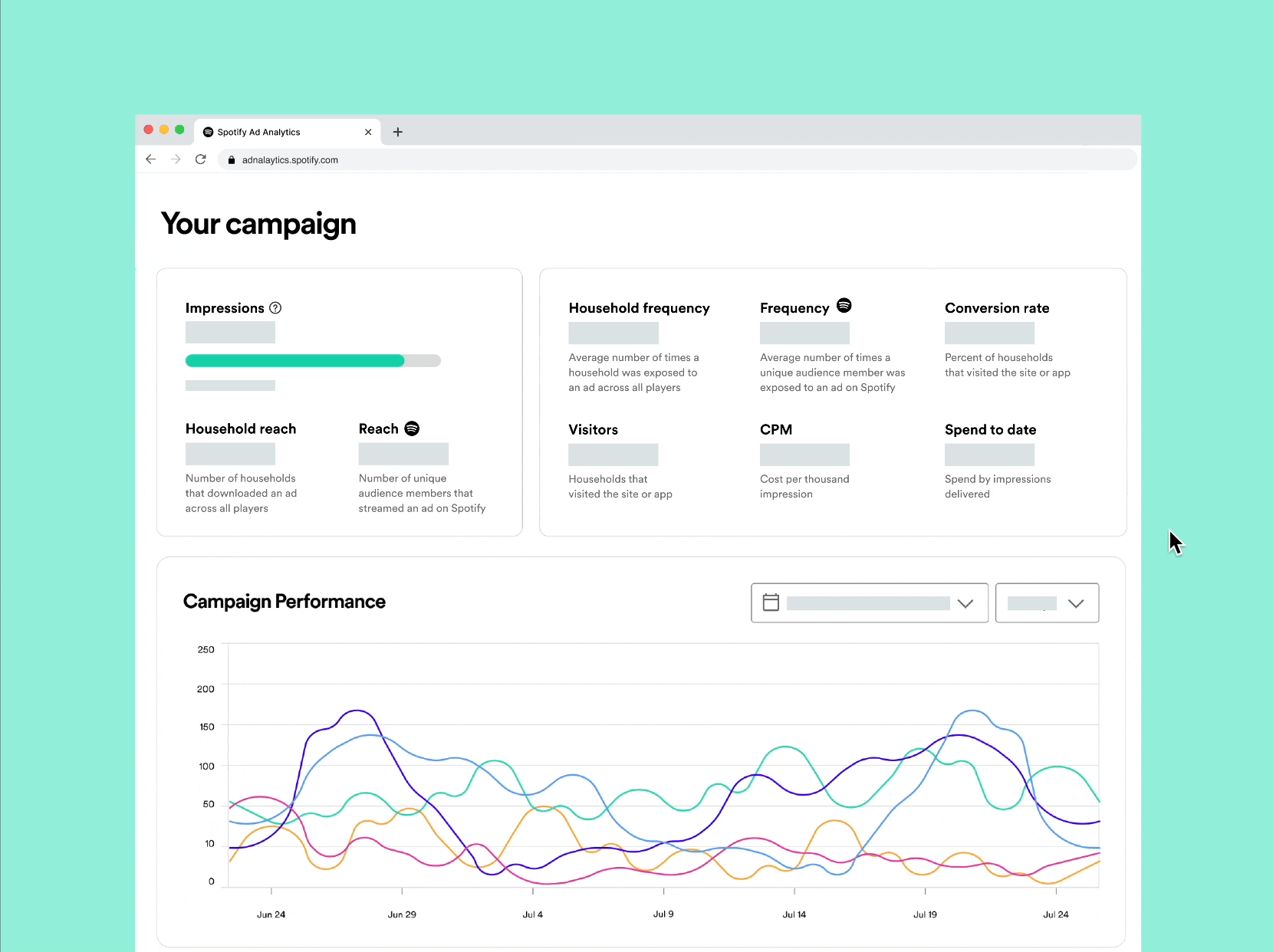 ---
How can advertisers use Spotify Ad Analytics?
Advertisers have more ways to measure the success of Spotify campaigns. To understand how you are growing and building your brand with KPIs such as ad recall, awareness, and consideration – you can access reporting for Spotify Brand Lift through this centralized dashboard.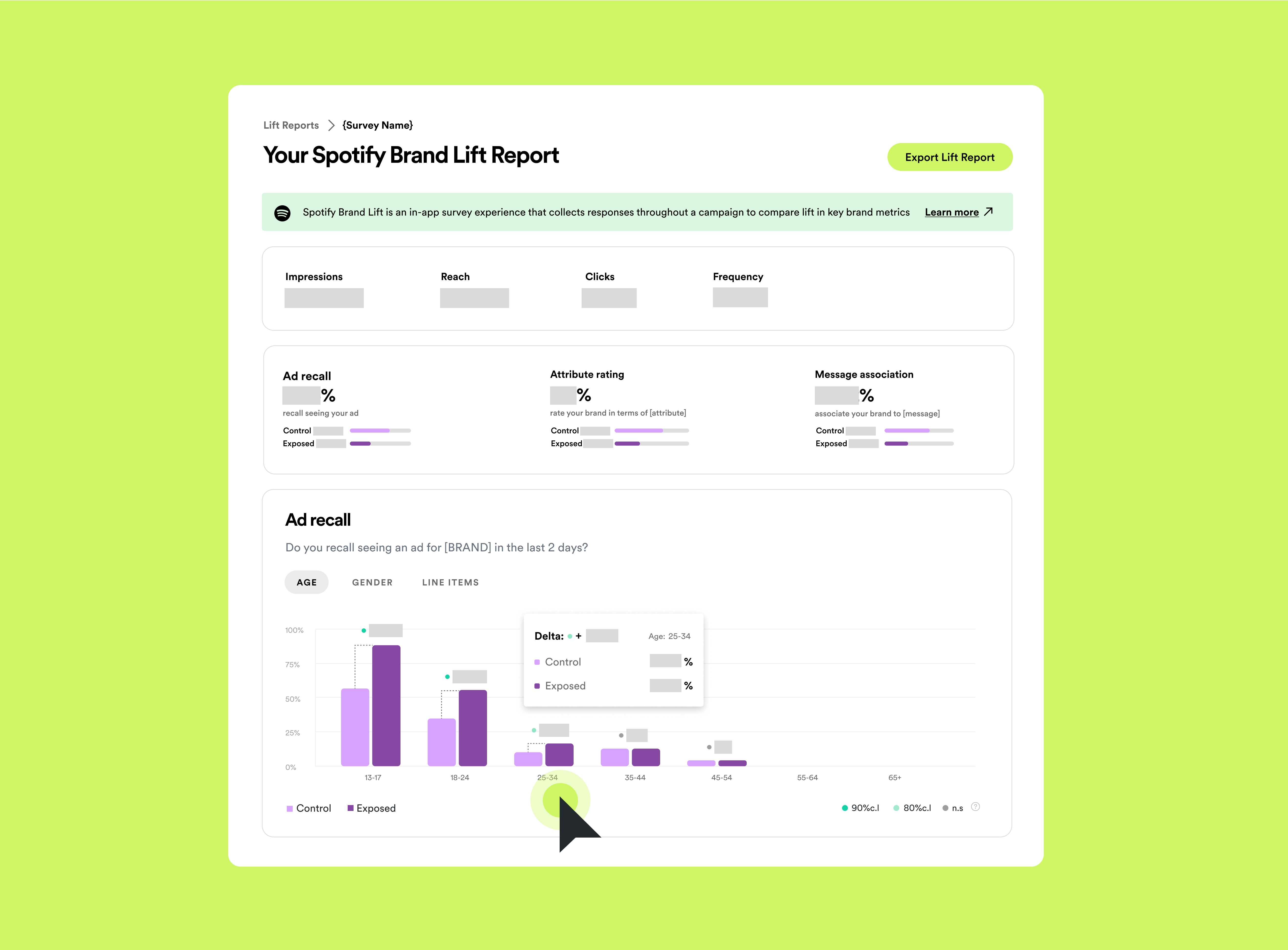 To validate how you are driving website activity and conversions, you can use the Spotify Pixel for attribution across all ad formats on Spotify, for both music and podcasts.
And with the Spotify Pixel, you'll be able to track online behavior and in-app engagement whether you're buying audio ads with Spotify or another podcast publisher—at no extra cost.
Understand which Spotify and non-Spotify strategies are helping you reach your goals.
Get holistic insight into delivery across all of your investments.
Grow return on investment by ensuring your marketing campaigns are driving value for your brand.
How can publishers use Spotify Ad Analytics?
Podcast publishers are able to drive more direct revenue from every impression. To validate the impact of your audio inventory, you can offer and activate attribution with the Spotify Pixel across an unlimited number of campaigns and an unlimited number of impressions – free of charge. To drive discovery of your content by potential advertisers and reinforce the value of your audience, you can opt your owned podcasts into Advisor.
Demonstrate the power of audio and deliver on outcomes for your advertising clients through pixel-based attribution.
Get discovered by new advertisers as they search for podcasts that align with their target audiences.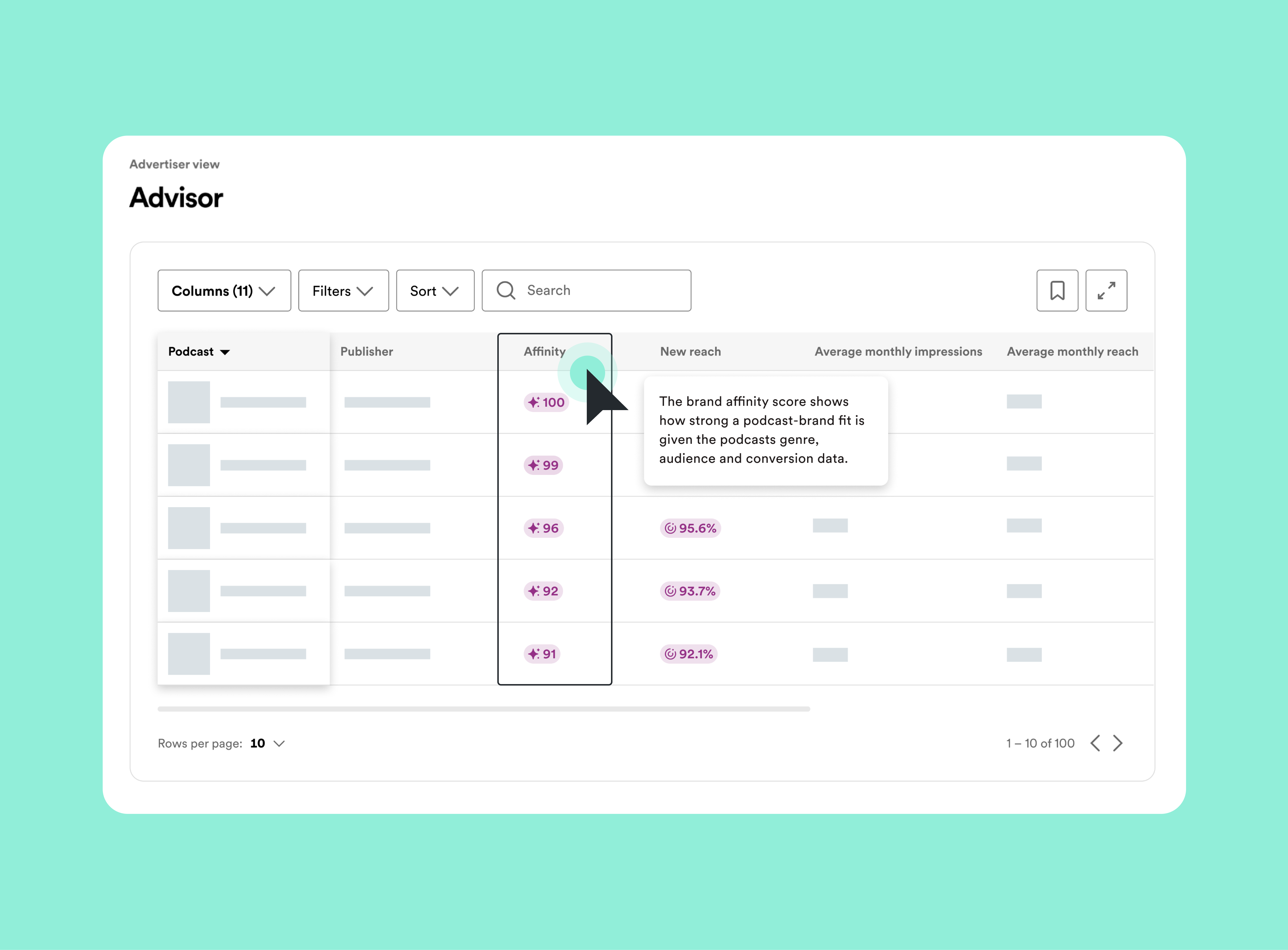 Learn more about your show's audiences with insights powered by trusted data providers.
Frequently Asked Questions
Who can use Spotify Ad Analytics?

Spotify Ad Analytics is a global measurement service available to brands, agencies, and publishers worldwide. Spotify advertisers can access this unified measurement platform in 10 markets: Australia, Brazil, Canada, France, Germany, Italy, Mexico, Spain, the United Kingdom, and the United States.

What types of media can be measured?
Spotify Ad Analytics measures all Spotify direct-sold media, including audio, video, and display ads across music and podcasts. Spotify Ad Analytics measures audio ads across non-Spotify media. At this time, Spotify Ad Analytics is not integrated for use with Spotify Ad Studio.
How much does Spotify Ad Analytics cost?
There is no cost associated with using Spotify Ad Analytics.

Can I use the Spotify Pixel to measure attribution for podcast episodes, and associated podcast ad exposures, that are simulcast on Youtube?

As of today, it is not possible to measure the efficacy of your publisher-direct ads in simulcast downloads via YouTube using pixel-based attribution, due to the lack of available exposure data from a YouTube view. Without data points like IP address, user agents, or timestamps – which YouTube does not supply to third parties – third-party measurement vendors, including Spotify Ad Analytics in this case, cannot accurately model attribution for YouTube views.

YouTube allows brands to target podcast viewers with ads bought directly with Google/YouTube and provides 1st party attribution of their own. If your client wants to leverage pixel-based attribution on YouTube videos, they will need to work directly with YouTube and install the Google pixel on their website.